Introducing Our Executives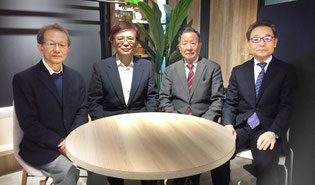 Kiyofumi Ishikawa: CEO & President 
(Ph.D. from The University of Tokyo)
 Career Overview: Worked for Merck & Company in Japan, initially at the Medicinal Chemistry Department in New Drug Discovery RL; then, served as Head of the Process Development Laboratories; finally, was Vice Director-General of the Manufacturing Division (responsible for QA and QC units).
 Has had extensive experience related to drug development in the above-mentioned fields.
Hideyo Imanishi : Chairman
(Ph.D. from Japan Veterinary Science University)
 Worked for BMS Tokyo Research Institute as a leader of the pharmacology research division for 23 years. After that, worked for Toray Industries, Inc., as a pharmacology, pharmacokinetics, safety, and clinical research leader and devoted 13 years of his career to the development of interferon and new anticancer drugs. After retirement, worked for a pharmacology research CRO as a leader of the Japanese office for 18 years.  Has worked as an adviser supporting various Japanese companies to conduct basic research and clinical research.  Also, supported the resumption of certain suspended activities of the Japan Pharmaceutical Licensing Association (JPLA).
Yoshiki Sasaki : Board Director
(Kyoto University, M.S. in systems engineering)
 BE mechanical engineering (1973) and ME systems engineering (1976) at Kyoto University. Sales manager and engineer at Hitachi, Ltd. (steel rolling plants, FA systems) Industry Consultant at SRI International (1988).
 Executive board member at Japan Asia Investment Co., Ltd (JAIC) (1996), 150 exits from Southeast Asian investment after Asian Crisis. Started first Japanese funds to invest in China (2001) and Vietnam (2006), distressed debt fund in Southeast Asia (2003), and first Japanese fund to invest in biotechnology (2003). Invested in Alibaba (2002) and was board member. After retiring from JAIC as senior managing director in 2008, supervised US$90M growth fund to invest in Southeast Asia funded by Development Bank of Japan and an NEC subsidiary.  Moreover, he created several startups which were integrated under Social Impact Solutions Co., Ltd (2019). The group companies are active in healthcare service for seniors, agribusiness and startup investing, accelerator management, technology investment banking as well as new material development.
Keizo Hanada: Board Director 
(Kyoto University, M.S. in Agriculture, Ph.D. from Kitasato University, MBA from University of Wales, UK)
 Worked for Sanraku Ocean Co., Ltd., Toray Industries, Inc., and European pharmaceutical companies for 40 years, and served as the head and officer of the R & D headquarters. He was engaged in the search and production of pharmacologically active substances using microcultures and cell cultures, business development and licensing, and clinical research.  He has extensive knowledge and experience in pharmaceutical development.
Hisataka Shoji : Director, Business Development Division
(Kyushu University, M.S. in Chemistry, Ph.D. from Shiga University of Medical Science)
 Worked for Toray Industries, Inc., for 19 years in Fibers &Textiles Research Laboratories and Basic Research Laboratories where he researched and developed a new fiber and an extracorporeal blood purification device for the treatment of sepsis and septic shock by removing endotoxin named "Toraymyxin".

 After that, he worked for Toray Medical Co., Ltd. for 27 years, where he was engaged in planning and science job both in domestic and overseas business for "Toraymyxin".  He has much experience and had many achievements in the field of therapeutic medical devices.
 He has extensive experience in attending domestic & overseas conferences and making presentations. Moreover, he has published many treatises.
 Currently, he is a contributing member of the Japan Society of Critical Care for Endotoxemia.
Affiliated academic societies:
The Japan Society of Intensive Care Medicine, The Chemical Society of Japan, Japan Society for Therapeutics and
Japanese Society for Apheresis, Japan Society for Blood Purification in Critical Care, Japanese Society for Artificial Organs, Japan Endotoxin and Innate Immunity Society      

Full member of ISFA (International Society for Apheresis), SCCM (Society of Critical Care Medicine, USA), and ESICM (European Society of Intensive Care Medicine, EU).
Professional Awards:
Technology Award from the Japanese Society of Artificial Organs   ---         1998
Chemical Technology Award from the Chemical Society of Japan   ---         2001
Kazuo Hosoi : Bio-business Division Director
(Tokyo University of Science, M.S. in Chemistry)
 Worked for Toray Industries, Inc., and was in charge of synthetic medical drug research, and development of the purification process, formulation, and new test methods of human fibroblast beta-interferon. After approval of the manufacturing of "FERON", he was engaged in improving and stabilizing the manufacturing process and enhancing the quality assurance that complies with the ICH guidelines as a manager for biological drug manufactures. During that time, he was a member of GMP standing committee of the Pharmaceutical Manufacturers' Association of Tokyo and also participated in international conferences as a member of ISO TC198 WG1 (Ethylene oxide sterilization) and WG9 (Aseptic processing).
 After retiring from Toray, he worked for Denka SEIKEN Co. Ltd. (Present: Denka Co. Ltd.) and Takeda Pharmaceutical Company Limited as a consultant for 9 years.
 He has extensive knowledge and experience in bio-pharmaceutical drug research and development, including manufacturing control, quality control, and management in possession, use and export/import of pathogens and biological products.