Biopharmaceuticals: Contract R&D/GMP Manufacturing
As the exclusive agent of Mycenax Biotech Inc. (MBI) in Taiwan, which is a CRO/CDMO specialized in biopharmaceuticals, our company LibraMedicina (LMed) is always ready to help you outsource a variety of R&D and manufacturing tasks associated with protein drugs such as recombination proteins, peptides, protein complexes, nasal vaccines, monoclonal antibodies, bispecific antibodies, Fc-fusion proteins, antibody-drug conjugates (ADCs), antibody-cell complexes, antigen-binding fragment (Fab), single-chain variable region fragment (scFv), enzymes, etc.
You can outsource your CMC-related project from any step of the R&D/manufacturing from an early stage of plasmid construction, cell line development (CLD), etc. through establishment of cell banks (RCB, MCB, and WCB), mfg. process development, analytical method development, quality control, GMP manufacturing of DS/DP, or even one specific step only. MBI has a successful track record of providing early- or late-stage clinical supplies and of commercial production.

Furthermore, LMed, is also partnering with other bio-CROs to provide biopharmaceutical-related services such as 1) various analyses and characterizations of biopharmaceuticals (primary and higher-order structure analysis, glycan analysis, identification and quantitation of related substances, etc.), 2) viral clearance studies, establishments of viral vectors, and 3) polyvalent/complex antibody development using a certain platform technology.
Major Services
1.     Cell Line Development (CLD)
High-quality, highly productive, and stable cell lines for various host cells and product types are efficiently selected by the use of Berkeley's Beacon® platform, accumulated know-how in codon optimization, signal peptide screening, etc. All cell line development activities from vector construction to generating cell banks for GMP manufacturing are conducted in accordance with ICH and global regulatory requirements. Humanization of antibodies, gene modification for enhancing ADCC activity, etc. can be conducted at your request.
2.     Process Development
Streamlined and robust technology platforms for process development in addition to timely analytical method development moves your projects forward promptly to GMP manufacturing.
3.     GMP Manufacturing
The innovative design of MBI's multi-product GMP facilities allows for capacity and technological flexibility while ensuring strict compliance with biopharmaceutical regulations (ICH and FDA/PMDA/EMA) required for GMP manufacturing of biopharmaceuticals (DS, DP) for pre-clinical, clinical or commercial use.
4.     Technology Platforms
MBIFastTM : Monoclonal antibody process development. Preparation of IND enabling package from DNA to GMP manufacturing within 16 months.
MBIJumpTM : One-step cell culture scale-up. Direct scale-up from 5L to 500L.
MBICHOTM Medium : Easy control of cell culture to optimize product quality and maximize titer.
In-house developed CHO cell medium
MBIContiTM : The continuous production process for improved product quality and process efficiency. Fully integrated production line for a single-use, continuous manufacturing process.
MBIMicro : Microbial process development for recombinant proteins and plasmid DNA.
High titer Microbial platform : A stable cell clone with high-level production.
Coverage of Project Stages: Preclinical (R&D, Safety Study), Clinical (Phase I-III), Commercial
 
 
 
 
 
 
 
 

Details:

TargetCells


 

Mammalian Cells (CHO-S, CHOZN GS-/-, SP2/0, HEK), Microbial Cells (E. coli), NK Cells (cell therapy, gene therapy)

 

Cell Line Establishment

Vector, Host Cell System, Cell Bank Establishment

 
 

Analyses

GLP compliant

 
 
 
 

Culture Scale & Equipment

Mammalian Cells: ~500mL and 50-2000L (Single Use)




Microbial Cells: 50L (Single Use), 200L (Stainless Steel Tank)

 

Purification

Various Purification Technologies

 

Formulation

Vial (Liquid,

L

yophilization), Prefiled

Syringe (PFS)

 

Document

Support for Preparation of Application Materials in English

 

Regulatory Compliance

Compliant with GMP Regulations (FDA,

PMDA, EMA), PIC/S GMP, ICH, etc.

    
Competitiveness :

Maintain

a cost-competitive edge in R&D and manufacturing, for example, by developing a high- quality (high-productivity and high-viability) cell line in a short period of

time.

Track Record :

In

addition to commercial production (in-house developed product), we supply multiple formulations for early- and late-stage clinical trials. NK cells for cell therapy are also supplied for Phase I clinical trials in the United States.
The company MBI is listed on the Taiwan Stock Exchange
(
GreTai Securities Market, 4726)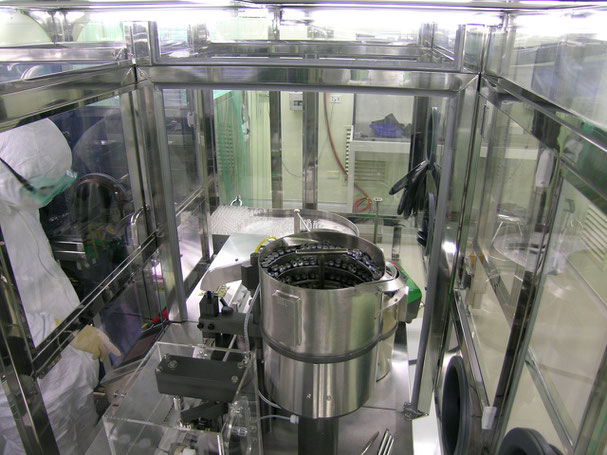 For more information, please download the PDF below.